15 Jun /

Andreja Pejic – Refinery 29 – 14 June 2017
Andreja Peji?: "My Transition Was Worth Risking Everything"
Andreja Peji? knows a thing or two about superlatives: She's arguably the most recognizable transgender supermodel working today; before her transition, she was the biggest androgynous name in the business. In 2011, OUT Magazine named her Stylemaker of the Year on its list of the
100 Most Compelling People
. Oh, and she's also the
first trans woman to sign a cosmetics contract
, which she did with Make Up For Ever in 2015. But the thing about being
the first
to do something — when that something is both so intimate and so often misunderstood — is that it can sometimes feel less like recognition and more like a cross to bear.
As Andreja and I sit down for rosé and lobster rolls at The Wythe Hotel in Williamsburg, I can't help but first address the elephant in the celebrity interview: Do you get sick of reporters asking you to talk about your transition? She pauses for a long time, carefully considering her words. She does this before answering just about any question — one could say she's well media-trained, but it seems more likely that she knows what she says could be used to represent an entire community, and that's a lot of pressure.
"Sometimes, yes, I get tired of answering questions about my vagina," she says. "Does my story give more of a dimension to my career and make me more memorable? I think so, but I have to relive some really personal things. You don't see Rosie Huntington-Whiteley being asked the same sorts of questions. But I guess that's the price you pay for this life."
This life refers to the one in which Andreja — once unsure whether her transition from male to female would spell the death of her successful androgynous modeling career — has a massive social media following, numerous ad campaigns, a groundbreaking Vogue feature, and a long list of magazine covers. She's so well-known that she wears scarves around her face, Audrey Hepburn-style, to Trader Joe's when she doesn't want to be recognized. "I'm not Britney Spears, but I'm famous in the New York City bubble," she laughs.
Growing up with a single mother and an older brother in a Melbourne suburb, Andreja didn't know why she preferred playing with Barbie dolls and spinning in her mom's skirts over playing in the dirt with the boys. "There was this feeling that I just knew something was different. Back then, I would spend so much time daydreaming about another life, but I didn't understand why. My mom would sometimes ask if I was gay, but when I would imagine anything romantic, it would be a heterosexual fantasy and I would be the girl." At 13, she went to the library, googled around a bit, and the rest was history: "I found the words for what I was feeling and discovered a whole community of people going through it."
Her family handled the news well; she broke it to them after her mother discovered the hormone pills she'd been secretly ordering online stashed in her desk. She was only 14, and her mom was understandably worried about her. "I wouldn't recommend it," she says, "but in Australia, there's still that strange law that to be treated if you're under 18, you have to go through the family court and get it approved by a judge, which takes years and is so expensive. I took things into my own hands. It's worse if you're doing it like a lot of young people do, who can't afford to see a doctor and are injecting on the street."
She planned to transition right after high school, and then go to college, but at 17 she was scouted while working at McDonald's and jumped at the opportunity. "I was just interested in seeing the world and making some money for my transition and my family; I didn't know [modeling] was going to become this big exploration and argument against gender."
"
"THERE WERE MOMENTS IN MY CAREER AS A BOY THAT I HATED EVERY SECOND OF IT. I HATED THE MEDIA EXPOSURE, I HATED SEEING ARTICLE TITLES SAYING 'MALE MODEL,' OR ONES THAT WOULD SENSATIONALIZE IT BY PUTTING UP A PRETTY PICTURE OF ME AND BEING LIKE, 'THIS IS A MAN!'"
"
You can probably fill in the rest: Andrej Peji? exploded as the "It" model, walking major menswear and womenswear runways and landing a campaign as the face of Marc Jacobs. To many, it would have been the dream, but as she recalls, "There were moments in my career as a boy that I hated every second of it. I hated the media exposure, I hated seeing article titles saying 'Male Model,' or ones that would sensationalize it by putting up a pretty picture of me and being like, 'This Is A Man!'"
But despite her huge success as an androgynous model, Andreja never stopped taking hormones or abandoned her ultimate goal of gender-affirming surgery — though not for lack of pressure. "A lot of people in the industry told me not to transition. They were like, 'You don't want to associate yourself with the trans thing too much because it's not chic or it's low-end or whatever.' I think a lot of people in this industry do whatever they can to have a career and they didn't understand that I would risk everything — it was deeper than a career [to me]."
In 2013, she was finally able to schedule the surgery she'd been waiting what felt like a lifetime for — and she crossed her fingers that the modeling world would embrace her when she returned. "It was a grind to save up money," she says, remembering how she used to sleep in bus stations during European fashion weeks to offset the medical costs.
"
"A LOT OF PEOPLE IN THE INDUSTRY TOLD ME NOT TO TRANSITION. THEY WERE LIKE, 'YOU DON'T WANT TO ASSOCIATE YOURSELF WITH THE TRANS THING TOO MUCH BECAUSE IT'S NOT CHIC OR IT'S LOW-END OR WHATEVER.'"
"
Just 10 days or so after surgery, Andreja walked the DKNY runway (which she admits "probably wasn't a good idea"). She hadn't told anyone besides her friend and fellow model, Eliza Cummings, who whispered "congratulations" backstage when no one was around. When she later announced the news publicly, "things weren't easy for about six months," she admits, saying it felt like most people had turned their backs. She left her former agency, DNA Model Management, and moved to Society Management, which only represents women.
Then stylist Katie Grand cast her to walk in Giles' show. "It felt incredible. It was me. I didn't have to think about gender anymore," Andreja says. She started getting work again, and soon enough, Vogue came calling to do its first-ever profile of a transgender model, and not long after that, Make Up For Ever offered her a cosmetics contract… "and now I'm here shooting a beauty story with Refinery29, so I can't complain too much," she laughs.
But Andreja realizes she's speaking from a privileged position — she's white, tall, thin, and traditionally beautiful by any measure. She knows her experience, along with those of people like Caitlyn Jenner and Laverne Cox, is far from the norm. "Culturally, Western society is less transphobic today than it was 10 years ago, which isn't saying much because it's pretty fucking bad, but politically, legally, economically, things are not progressing," she says. "Acceptance and exposure are great, but people need a job, education, the opportunity to live life, to love, to transition…"
She hears about the struggles kids are going through all over the world because they tell her — usually in DMs. Her fanbase is loyal and engaged, and she does her best to connect with them, even if she's sitting in the hair and makeup chair on the job. In between takes on our shoot, she reads through her messages, responding to someone who runs one fan account like they're an old friend. "They look at the exposure we've had in the media and it's bittersweet for them because they're like, 'Oh, now apparently trans people are accepted. But I can't pay my rent or get a job,'" she says. "It very much helps if you're a supermodel or related to the Kardashians or have a career in Hollywood. Getting a cover of a magazine is nice and I'm grateful for it, but it isn't going to lift people out of poverty."
"
"IT VERY MUCH HELPS IF YOU'RE A SUPERMODEL OR RELATED TO THE KARDASHIANS OR HAVE A CAREER IN HOLLYWOOD. GETTING A COVER OF A MAGAZINE IS NICE AND I'M GRATEFUL FOR IT, BUT IT ISN'T GOING TO LIFT PEOPLE OUT OF POVERTY."
"
As the
first trans woman to land a makeup contract in 2015
, I ask her what role she thinks the beauty industry plays in this conversation around gender identity and LGBTQ acceptance. How do companies that follow in the footsteps of
Milk Makeup
,
CoverGirl
, and
Revlon
, to name just a few of the major brands pushing messages of inclusivity in their marketing, avoid the trap of capitalizing on a "trend?"
"Corporations need to do a bit more research into the community that they're trying to represent and keep in touch with that community. Just because someone is white and pretty and LGBT doesn't necessarily make them a great spokesperson. Can they talk? Do they have a brain? Are they sensitive to struggles other minorities go through? It's possible to come from this community and have grown up in a bubble, too," she says.
Of course, it's hard to feel especially optimistic about the future of the LGBTQ community, especially under the current administration, she says. President Donald Trump
rescinded a mandate
put in place by the previous administration that protects the rights of transgender students at any school that receives government funding. He has also yet to express support for Pride Month. Vice President Mike Pence has long been a fierce
opponent of same-sex marriage
, as well as the
repeal of Don't Ask, Don't Tell
, and other legislation designed to offer protection against workplace discrimination and
hate crimes
.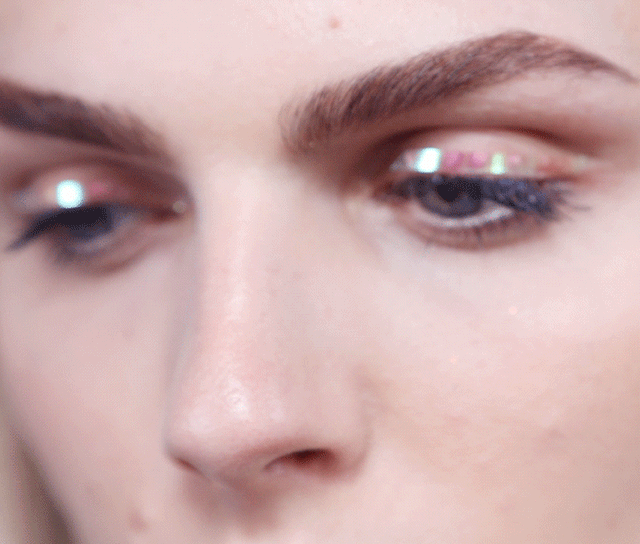 "I want to say the future is bright, but I don't know," Andreja says. "I believe in humanity and that we can build a better world, but it's going to take more than just hashtags. It's going to need to be the 1960s all over again; there need to be movements. When you're fighting to survive and get by every day, taking a break from that to get political is taxing, but it's necessary — there's no way around it."
Talk of Trump and the 1960s begs the question: Is she a feminist? She hesitates when I ask her this; it's the first time it seems like she'd rather not answer a personal question. "Look, I've read plenty of Virginia Woolf and I'm a fan of women in early movements like Rosa Luxemberg…" she trails off, then starts again. "Of course, I believe in equality of women, no question. Do I think that a matriarchy is the answer to all of our problems? No. My problem with modern day feminism is that it concerns itself way too much with trivial things and it's become quite bourgeois and concerned with the needs of upper middle class women as opposed to everyday, working people."
Still, just because she doesn't embrace the feminist label doesn't mean she hasn't got a bit of a stick-it-to-the-man streak in her: When speaking about her
recent GQ Portugal cover
, she gets a mischievous twinkle in her eyes. "I didn't imagine ever … that a bunch of guys would be drooling over my pictures." Men can be great, but scared, she says, so "hopefully this shakes them up a bit. I grew up around very strong women and I feel like I'm strong, so it's time for the men to toughen up a bit, too."
We've been talking for almost two hours at this point, but neither of us is in a hurry to leave. It's one of those perfectly warm, late spring nights and the sun is setting across the river over the city's skyline. We order chips and more wine. The restaurant is filling up and I can't stop noticing the men at the table next to us who keep glancing over every few minutes. They clearly know she's someone, but aren't quite sure who.
"It's a beautiful thing to not have to feel ashamed, to not have to hide. There's a particular sense of accomplishment to this journey," she says. "To be living in Manhattan in 2017 for a person like me is incredible. It's this dream I had as a kid that seemed like the stuff of fairytales, so the fact that I did it myself — I set out into the world and said I want to live the way I am and I don't want to hide — feels like a fucking diploma."